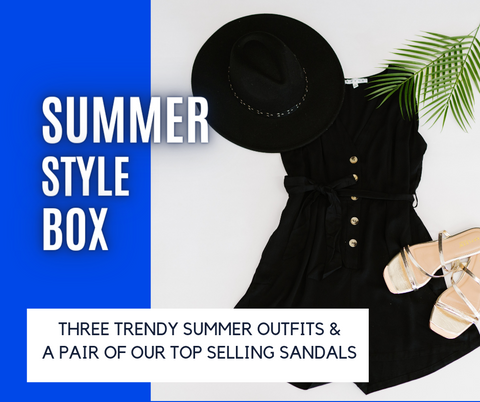 Sweet Summer Style Box
Our mystery style boxes are here with a BANG! This Summer box contain 3 comfortable, trending Summer outfits & a pair of our best selling Summer Sandals!

▪︎Outfit Size▪︎
Small 4/6
Medium 8/10
Large 12/14
XL 14/16
2XL 18/20
3XL 22/24

How a style box works:
1. You place your order here. Your total cost is $105 & shipping is FREE as usual at CGS Clothing! (retail value is $199+)
2. I will begin curating your unique Summer Box. Give us a minute to make the magic happen! Style boxes can take around 7/8 business days to curate. These items are highly discounted, We put a lot of love and work into these special mystery boxes!
3. You will get a notification when your box is ready to ship! OMG the suspense is too much!
4. On delivery day, Stalk your mailbox and Then you get to unbox your Summer looks! The pieces in our style boxes are not even released on our website yet so it's great opportunity to try out some brand new styles at a great value before anyone else tries them!
5. Try everything on right away! Keep what you love, anything you don't love, you can tuck it right back into your Style Box package and tape it up to send right back to us for a store credit!
6. When your return is received, I'll create your store credit to spend on our website.
---